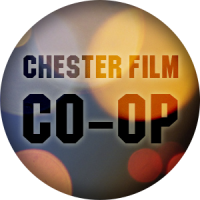 Doing what
Co-op

s do best...
---
...
Cooperating
! The Chester Film Co-op is an endeavour dedicated to bringing the Filmmakers of Chester & the surrounding area together, to meet, share ideas & make films.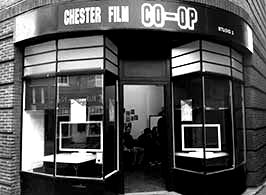 The Co-op was originally set up by the late artist Janet Hodgson & housed on Northgate Street in two studios at the back of the old Odeon building (see picture).
The Co-op was a place where local, national and international artists, as well as graduate students and emerging filmmakers, could spend time producing, making, researching, thinking, showing and commissioning film and video works.
The Co-op has facilitated a series of creative networking nights, independent film screenings, visual installations and creative workshops in their previous studio spaces as well as organising various 'pop-up' screenings across the City, showcasing local talent and supporting the Chester film community.
Initially funded by the RE:NEW project to bring awareness to the redevelopment of Chester's old Odeon Building, when the major structural works commenced to turn it into the 'STORYHOUSE' – a cultural centre for Chester, the Co-op was homeless & funding ceased.
Film Chester was formed between existing members of the Co-op, keen to keep the Co-op running as well as branching out into other aspects of the filmmaker scene in Chester.
Now run by the board of Film Chester,  the Co-op has evolved to be a collective of filmmakers from the Chester & surrounding area, who meet up every month to discuss idea & projects that they're working on/in.
Throughout 2016, the Co-op  met up at the Share Shop (left pictured) on Northgate Street, near the new Storyhouse building. Since Jan 2017, meetups have been taking place at The Watergates Bar (right picture). Check out the events links at the bottom of this page for details on the dates and locations of forthcoming Film Co-op events.
---
Filmmakers often don't get in the same room with other filmmakers, yet the best way to collaborate is to network & discuss ideas with other similarly minded people. We  know that there are filmmakers out there in Chester but they're quite possibly not aware of each other. The Co-op is a way to help the burgeoning filmmaking Community of Chester (green or experienced) to come together to create great film in the City, as well as making new friends and industry contacts.
---
Find out
what's happening

&

when
Previous

Events & Meetups...
The Co-Op meets each month, usually on a Thursday evening in the second half of the month. Here's a run down of some of what's gone down at the most recent meetups...
At Film Chester's September 2017 Chester Film CO-OP film networking event at The Watergates, we screened a few locally made short films and a scene from a feature film, Malcolm from Picturehouse Films brought along a new flexible LED light panel to demonstrate...
---
We tend to be most active on our Facebook page, where we  post a mix of local film news, along with some wider film industry snippets, gossip, equipment reviews & funding opportunities e.t.c…
SOCIAL MEDIA
WHERE WE HANG