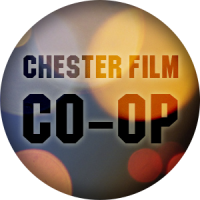 Doing what
Co-op

s do best...
---
...
Cooperating
! The Chester Film Co-op is an endeavour dedicated to bringing the Filmmakers of Chester & the surrounding area together, to meet, share ideas & make films.
---
Filmmakers often don't get in the same room with other filmmakers, yet the best way to collaborate is to network & discuss ideas with other similarly minded people. We  know that there are filmmakers out there in Chester but they're quite possibly not aware of each other. The Co-op is a way to help the burgeoning filmmaking Community of Chester (green or experienced) to come together to create great film in the City, as well as making new friends and industry contacts.
---
Find out
what's happening

&

when
Previous

Events & Meetups...
The Co-Op meets each month, usually on a Thursday evening in the second half of the month. Here's a run down of some of what's gone down at the most recent meetups...
The March Meetup saw a wide selection of work-styles being shown, including a music video for a rap song, a crowd funding campaign video for a "contemporary-retro" short film that's in the works, an excerpt of a documentary that was shot in India by someone at...
---
We tend to be most active on our Facebook page, where we  post a mix of local film news, along with some wider film industry snippets, gossip, equipment reviews & funding opportunities e.t.c…
SOCIAL MEDIA
WHERE WE HANG