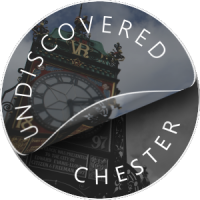 LEARN

SOMETHING
NEW

ABOUT

CHESTER
Discover

the undiscovered
---
'Undiscovered Chester' is a documentary project co-ordinated by members of Film Chester, check out the trailers below as well as information on where you can pick up a DVD. Our series covers a range of intriguing subjects, all relating to Chester and surrounding areas, fulfilling the pledge to preserve Chester's heritage through the medium of Film, this series highlights some of the lesser-known facts about Chester.
Film Chester produces 'Undiscovered Chester' as a way of preserving the history of Chester on film while encouraging movie-making in and around the City, by purchasing a DVD you are supporting the local filmmaking community as well as helping to sustain Film Chester as an organisation.
Our first documentary is currently in post-production and covers The Minstrels' Court, which first took place in 1204 when entertainers at a fair in the city helped save the Earl of Chester from Welsh soldiers. The regular event is one of only a few re-enactments in Britain to take place in its original and authentic location;
St John's, beside the amphitheatre, the oldest church in Cheshire. The offical trailer will be posted here soon, but in the meantime check out Film Chester's 'Changing Times' film (which now has 53,000 views on Facebook!), made in conjunction with Chester's History & Heritage Centre photographic archive.

Buy it

from these places:
---
This is where we'll list how you'll be able to buy

Undiscovered Chester

titles.
We will, of course, be blanketing Social Media with the announcement of the first title's availability,
so don't worry – you won't miss it when it ships later this year!